NSM Jukebox Cabinet Keys
NSM key customers, Do not purchase NSM keys without verifying the cylinder number.
If you have a code number not shown below, email me I may have the master. But do not order any keys that are not an exact match for your locks code number, they will not work.
The keys I offer are for the original factory installed cabinet locks that open lids, front and back doors.
Keys will not fit cash box doors or non-original cabinet locks.
Every cash door lock is unique and there is no source for them. If you're missing the key to your cash box door, there are two solutions: Replace the lock or have a locksmith fit a new key.
Need a replacement lock for your cashbox? See my lock page
Wanted: Original NSM Key #074-244
Key #167676
This type lock was used on many early model NSM's from the 60's into the early 70's.
Typically found on the Consul, Hit, Concert 240i's, Festival, early Prestige models and others.
If the lock face on your machine looks like this
Check the side of the cylinder, if it's stamped #167676

This is your key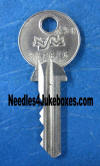 Key #167676 Key $14
Key
#2H0010
This type lock was used on many NSM jukeboxes from the late 60's on into the early 80's.
Used on many ES-160's including the Prestige 160 & Festival, it's also common to the Prestige 2, City II, City IV, Satellite 200 and several others.
Check the face of the cylinder, if it's stamped #2H0010

This is your key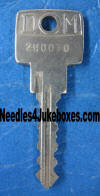 Key 2H0010 $15
Key #2C2608
This key fits most floor standing NSM CD jukeboxes: Galaxy, Concert 240-2 & 3, Performer Grand, Silver Sky, Hyperbeam and so on.
(Does not fit wall-mounted machines)
If your lock looks like this
This is your key
Key 2C2608 $14
Key #009901
Fits NSM wall mounted Compact Disc models including the CD Fire, Heritage, Performer & others.
If your lock looks like this

This is your key

Key 009901 $18
Currently Unavailable
ACE Key
Fits many late model NSM Compact Disc models (most wall mounts and some floor models) including:
Digital Thunder, Firebird, Solid Gold, Performer, Grand Performer/II, Sonic Burst, Cosmic Blast & others with ACE type lock.
If your lock looks like this
Order NSM ACE Key $15.99
Fits original factory installed ACE type cabinet (Front Door) locks only