Keys for Soda, Snack & Vending Machines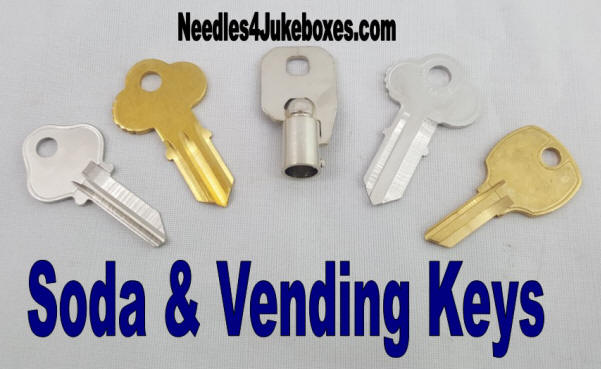 Custom manufactured keys for the original locks found on many vintage and modern soda and vending machines.
Brands like Vendo, VMC, Cavalier, Dixie, Rowe and many others
Browse through the listings below, you'll find many of the most popular key types listed
If you don't see a series that matches your machines lock number, email that number and a picture of the lock face
I'll check our data base to see if its possible to supply the key
There is no one key fits all or master key solution
To supply a key, your lock must be stamped with a legible number and that number must be submitted with your order
If the lock on your machine does not have a number, then there is no way to supply a key for it
Please read! The stamped numbers on lock faces can be very difficult to accurately read. The round numbers can look alike and some locks stampings are just about impossible to see with the naked eye. Clean/polish the face, use a magnifier and read in daylight, whatever it takes to get an accurate reading. The number you submit must be absolutely correct or the key will not work. All keys are made to order, therefore they are non-returnable items.
Lock Oiler Pen

Great for sticky or stiff locks
Makes them turn nice and smooth
$7.50
New Replacement ACE Brand Locks for T Handles
If your Soda or Vending machines lock is missing, damaged or has a unavailable key code, these brand new replace locks are just the thing
These locks as sold complete with 2 keys and will fit most standard size T bar handles
Please check your sizes against the below chart before ordering
$20 each
Chicago PR series Keys
Commonly found on 50's - 70's machines
Check the face of your lock, if it looks like this with a PR followed by 3 digits (see below for numbers available) stamped into it, I can supply a key

Available Key Numbers:
PR201-PR220
PR303, PR312 or PR315
PR501-PR520 or PR535
PR1301-PR1320 or PR1355
$15 each
Set of Chicago PR501-510 series Keys
Vintage ring with PR501-510 keys
10 of the most popular Soda vending machine keys sold as a set
$125 10 key set
VN Series Keys
Check the face of your lock, if it looks like this and has a VN followed by 3 digits (see below for numbers available) stamped into it, I can supply a key
Available Key Numbers:
All numbers VN901 - VN914
$15 each
Dixie Narco DN Series Soda Machine Keys
Check the face of your lock, if it has a DN followed by 1 to 2 digits (see below for numbers available) stamped into it, I can supply a key
Available Key Numbers: DN5, DN6, DN13-DN27
Please do not order DNG series keys, they are not they same as DN. I can not make DNG's
$15 each
PAA Soda Machine Keys
Check the face of your lock, if it has a PAA followed by 1 to 2 digits (see below for numbers available) stamped into it, I can supply a key

Available Key Numbers: PAA1-PAA25
$15 each
Cavalier Soda Machine with CAV Series ACE Lock
Check the face of your lock, if it has a CAV followed by a number from 1-20 stamped into it, I can supply a key

Available Key Numbers: CAV1 - CAV20 (except CAV15)
$15 each
CT Series ACE/Tubular Keys
Check the face of your lock, if it has a CT followed by any of the listed numbers below I can supply a key
Available Key Numbers: CT1-12, 17, 18, 20-35, 45
CT201, 202, 205, 206, 211-214, 216, 221, 233, 263
$15 each
VMC Series Soda Machine Keys - Tubular / ACE Type
Check the face of your lock, if it has a VMC followed by one of the listed numbers I can supply a key
Available Key Numbers: VMC1 - VMC5, 8, 10, 15, 20, 31, 34, 36, 40
$15 each
VMC Series Soda Machine Keys - Bell Type
Check the face of your lock, if it has a VMC followed by one of the listed numbers

I can supply a key
Available Key Numbers: VMC51, VMC54, VMC56 or VMC64
$25 each
Westinghouse WEX Series Soda Machine Keys
Check the face of your lock, if it looks like this one and has a WEX stamped into the face followed by 1 to 2 digits (see below for numbers available) stamped into it, I can supply a key
Available Key Numbers: WEX1-WEX5 & WEX32-WEX37
$15 each
Westinghouse WEX Series Soda Machine Tubular Keys
Check the face of your lock, if it looks like this one and has a WEX stamped into the face followed one f the below listed numbers I can supply a key

Available Key Numbers: WEX6, 10, 26, 50, 51, 52, 53, 54, 55, 66, 68, 77, 81
$15 each
Rockford VE Series Soda Keys
Check the face of your lock, if it looks like this with a VE followed by 3 digits (see below for numbers available) stamped into it, I can supply a key

Available Key Numbers: VE601-VE611
VE850 - VE857, VE859 or VE860
$15 each
National B & C Series Keys for Rowe, Cavalier & Others
National locks are found on many vending machines including Rowe, they are also used on all Rowe/AMI jukeboxes and wallbox (still with their original locks)
Cavalier and several other brands of vending and soda machines also commonly used National locks
Check the face of your lock, if your lock looks like these and has the same alpha numeric code (starting with a B or C followed by up to 3 digits ranging from 01A-500A, 506A, 545A, 631A, 632A, or 633A) stamped into it, I can supply a key for it
If it's blank or has a code starting with a different letter I cannot

Any number from B01A-B500A, 506A, 545A, 631A, 632A or 633A
or C01A-C500A, 506A, 545A, 631A, 632A, or 633A is available

$11.99 each
KT701 Key
A commonly found lock on many VMC and other soda machines
Check the face of your lock, if it has KT701 stamped into it, I can supply a key


KT701 Key $15 each
KT800 Series Keys
A commonly found lock on many VMC, Vendo and other soda vending machines
Check the face of your lock, if it has KT801 or KT841 stamped into it, I can supply a key
$15 each
PU Series Keys
Check the face of your lock, if it has a PU followed by 1-3 digits (PU1-PU575) stamped into it, I can supply a key

$15 each
H2000 Series Keys
Check the face of your lock, if it has a H followed by 4 digits (H2001-H2576) stamped into it, I can supply a key

$15 each
Illinois / Duo V Series Keys
Check the face of your lock, if it has a V followed by 3 digits (see below for numbers available) stamped into it, I can supply a key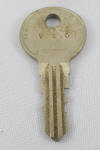 Available Key Numbers: V801-V815
$15 each