Keys for Wallboxes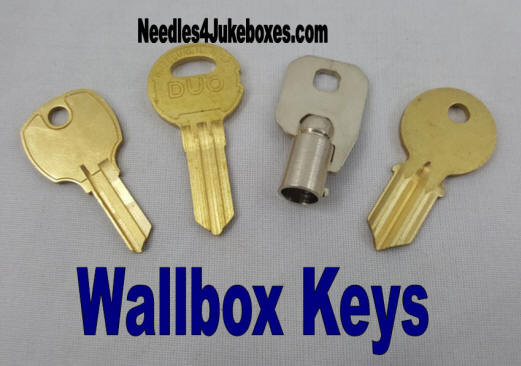 I custom manufacture keys for the original Rowe/AMI, Seeburg, Wurlitzer wallbox locks.
Your lock must be stamped with a legible number and that number must be submitted with your order.
Please read! The stamped numbers on lock faces can be very difficult to accurately read. The round numbers can look alike and some locks stampings are just about impossible to see with the naked eye. Clean/polish the face, use a magnifier and read in daylight, whatever it takes to get an accurate reading. The number you submit must be absolutely correct or the key will not work. All wallbox keys are made to order, therefore they are non-returnable items.
Rowe/AMI Wallbox Keys
Starting in the 60's Rowe (ROWE/AMI) started using the National B & C series locks in all WR/Wallette models of wallboxes. This includes the following models: WRA, WRC, WRD, WRE, WRF & CD.
It's possible some of these locks could have found their way into earlier AMI wallbox models such as the W or WQ series. But for the most part, the pre-Rowe wallboxes used "Bell" type locks which are completely different and no known source is available for those keys.
Check the face of your lock, if it looks like either of these and has a B or C followed by up to 3 digits (01A-500A) stamped into it, I can cut a key for it.
If the face is blank I cannot make a key.


All key numbers: B01A-B500A or C01A-C500A are available
Only $11.99 each
Seeburg S Series Wallbox Keys
Starting in the pre-WW2 era Seeburg started exclusively using the "S" type lock in all models and style of wallboxes. This includes all 20, 100, 160 and 200 selection wallboxes, models include the following series: WS-1Z, 3W1, 3W100, 3WA, SC, DEC and many more.
Check the face of your lock, if it has an S followed by 3 digits stamped into it (any number from S000-S999) I can cut a key for it. If it's blank or X'ed out I cannot.
$11.99 each
S Key buyers! This is Worth the Read...
I receive a few emails now and then about S-keys not fitting and/or turning, and nearly every time the problem turns out to be the wallbox lock. After sitting for years locks are stiff and gummed up. If your key won't even slide into the lock, this is not because you have received the wrong key! Its simply that the tumblers inside your lock are frozen. Sometimes there's something stuck in the lock. Like what? Like 30 year old ketchup or other food crammed in by bratty kids. We've also found a number of locks with keys or other objects snapped off inside them. If there's crud or a broken key tip in the lock, you must remove it first. Once the lock is cleared and ready to receive the key the lock must be lubricated. Most people use a spray penetrating oil (CRC, WD40, gun lube and so on...), just spray a little into the key opening. Now work the key in and out (not force it, not bang it in with a hammer) until it starts to slide nicely, then when it will slide to maximum depth with ease start twisting the key slide to slide. At this point most locks will just start turning, others need more help. At this point I'm going to suggest something, something that must be done with some common sense. When a lock won't budge, I will carefully use a pair of pliers to help get the key turning. This does not mean use key bending pressure, but very often the first turn takes a lot of pressure, more than bare fingers can assert. Also keep in mind that marked up keys, ones with plier marks etc can not be returned. So folks, please use your head not a hammer and good luck!
Wurlitzer WC Keys
In the late 1930's and most of the 1940's Wurlitzer used the WC series lock for most wallboxes and cash drawers
If the face of your lock looks like this and has WC followed by up to 3 digits from 1-500, I can make a key for it.

WC Key $15
Wurlitzer WCX Keys
Starting in the late 40's Wurlitzer started exclusively using the WCX lock in most wallboxes.
All 100, 104 and 200 selection wallboxes used this ACE type lock, models include the following 5000 series types: 5205, 5206, 5207, 5210, 5220, 5252 and others.
In the 50's Wurlitzer started using the WCX lock for cash doors. If your door still has is original WCX lock and it's numbered I can make a matching key.
Check the face of your lock, if it is marked WCX followed by a number from 1 to 500, I can make a key to open it
$13.99 each